I have been using Xtend-Life Anti Aging skin care products for 8 years now. I am always received compliments on my skin and people ask me what I use. I am very happy to recommend the organic skin care products from Xtend-Life, a family owned New Zealand business. I changed from using over the counter brand skin care products to avoid using chemicals. Xtend-Life Natural skin care products is my only choice of natural skin care that I love and would highly recommend. - Pearl Carroll
Great Offer for New Customers
Xtend-Life has just released the Eternal Beauty Collection with 6 of their best beauty products. You will save over $50, receive a classy makeup bag and also free shipping.
The Eternal beauty Collection contains 6 beauty solutions that together are designed to work for the ultimate skin, nail and hair rejuvenation.
Total Beauty doesn't  just result from what you put on your skin alone but also what comes from within. That is why Xtend-Life  includes ingestible beauty solutions to protect skin cells and slow down premature aging from within.
Combined with topical beauty solutions that targets skin damage and pigmentation to deliver a glowing bright complexion and rejuvenate your skin.
Xtend-Life handpicked collection offers customers savings of over $50 on their top selling products and includes a free makeup bag and free shipping.
Skin Support
Scientifically proven French marine collagen and New Zealand Pure Grape seed Extract strengthen and support the skin, improving stretch marks and wrinkles. The end result can be seen after 4 weeks.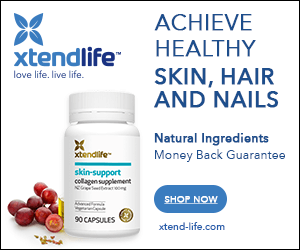 Omega 3 Premium
An antioxidant fish oil formula promotes healthy skin and repairs damaged skin and hair.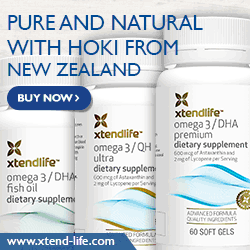 Eye contour cream
This light weight anti- aging cream treats wrinkles and dark circles around the eye area eliminating puffiness so you look well rested with a fresh glowing appearance. A great treatment also to use around the eye area before applying your makeup.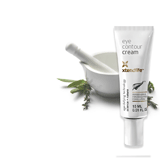 Age defying serum with whitening
Target discoloration and skin pigmentation with this amazing serum. It eliminates redness and evens out your skin  texture and tone. All the active ingredients have been scientifically tested to improve age spots and blemished skin.  Friends will notice the difference and comment on your skin.
Age Defying Sheer Day and Night
This light weight formula reduces the appearance of wrinkles with amazing results in just 6 weeks.

Foaming Facial Cleanser
This natural cleanser doesn't dry your skin, it moisturizes while strengthening and repairing the skin. The main ingredients are New Zealand Kiwifruit and Manuka Honey which promotes a radiant glowing complexion.
"Our goal is to apply makeup to enhance a woman's natural physical beauty and to match your personality as well. We are able to create a look that is not only unique, but is also guaranteed to provide satisfaction and confidence."
Living Glamour Makeup
374 Burnley Street, Richmond, Victoria 3121
Bookings By Appointment Only
Studio : 03 90016318
Mobile : 0435 795 552
"I believe in manicures. I believe in overdressing. I believe in primping at leisure and wearing lipstick. I believe in pink. I believe happy girls are the prettiest girls. I believe that tomorrow is another day, and… I believe in miracle." - Audrey Hepburn
© 2013-2017 Living Glamour Makeup
All rights reserved.